The Telluride area is one of our favorite places in Colorado and is easily one of the most beautiful places in the state, especially in the summer months. While there aren't any indoor rock climbing gyms in Telluride, there's one in nearby Ouray and there's plentiful places for outdoor adventure and a vibrant rock climbing community. Because it's more secluded from the rest of the state, you'll also find more seclusion in the San Juan Mountains than you would in the Crested Butte or Breckenridge areas.
Telluride rock climbing is worth the mountain trip and is home to jagged peaks and extensive walls that have many bouldering and climbing routes. Legendary climbers like Charlie Fowler and Lynn Hill have explored the area, putting Telluride on the map as a climbing destination. While there's much to explore in Telluride, there's also more in the surrounding areas of Ophir and Ouray.
The three predominant rock types are the high altitude conglomerate (Telluride Conglomerate), sun baked sandstone (Dakota), and Ophir's Diorite Rhyolite (close to granite). The San Juan Mountains are notorious for choss, but there's superior rock quality in the more developed areas. You should consider wearing helmets, especially in less established places and new climbs.
Explore on your own, or book one of the local outfitters for some highly trained guides. Some outfitters are San Juan Outdoor Adventures, Mountain Trip, Telluride Mountain Guides, and Base Camp Ouray. Here's a PDF guide to the area as well – it's exceptionally detailed and well worth a thorough look through.
Rock Climbing in the San Juan Mountains
Telluride Region
Via Ferrata
The Via Ferrata in Telluride is world class and it draws in climbers and tourists from all over. There are several climbs that start or end on the Via Ferrata, most of which are bolt protected and have big wall-style exposure that requires technical equipment. All of the guide services above also guide on the Ferrata, so you can reach out directly to book if you're interested. This climb requires some planning, so go to this website for all the information you need about the route requirements and plan on at least a half day, if not a whole day of adventure.
Bridal Veil Falls
The Falls Wall and Pipeline Wall area offer both single pitch and multi pitch bolted routes that are accessed from the main trail. It's one of the most popular areas and is located at the end of the Telluride box canyon. They offer great views of the canyon and Bridal Veil Falls, especially Pipeline Wall.
Mill Creek
If you're looking to get a little off the beaten path, there's some lesser known boulders outside of Telluride that require a 20-30 minute trek from the trailhead and parking area. The Treehouse Boulders at Mill Creek range from 10′ to 30′ tall and there are over 50 problems up to V9+. This area is Dakota sandstone so beware of loose rock – helmets recommended.
Ophir Region
The Ophir Wall is an old school, classic feature off Ophir Road. There's an area of private property that you should steer clear of, otherwise there's opportunities for quality single pitch routes, multi-pitch routes, trad, bolts, and some sport sprinkled in. The wall offers nearly a hundred granite routes with difficulties from 5.7 to 5.13c and nearby Cracked Canyon has another 50+ routes that go up to 5.11+.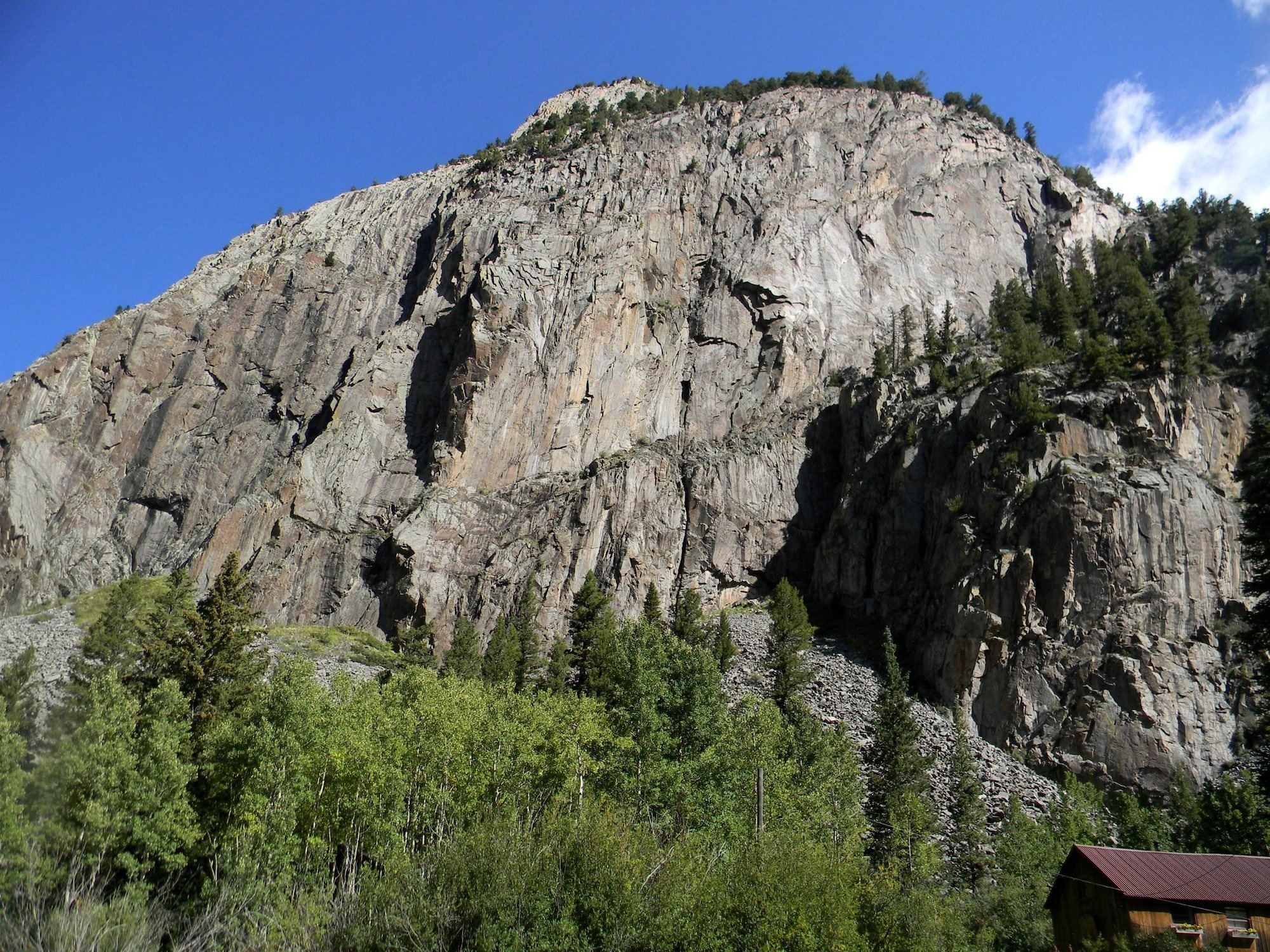 Ouray
Though less popular than the Telluride one, the Ouray Via Ferrata is worth the visit. There's also a privately owned Via Ferrata, which was meticulously built by a local adventure company, Base Camp Ouray. It's a really fun adventure with an experienced guide and has one of the most difficult sections on any Via Ferrata in North America. The YouTube below is worth the watch if you're interested in going!
Other than the Via Ferrata, Ouray is mostly known for their ice climbing. They have an Ice Park that's free to use in the winter months and is a man-made ice climbing part that's really quite amazing.
References