Have you ever been looking at a tent online, only to not recognize a term that the product specifications are referring to? After all, what is a vestibule and how does it benefit your tent? While camping tents are quite simple, they actually have a lot of different parts that contribute to the whole structure. We're going to break down and illustrate all the different parts of a tent and use pictures to guide you along.
In order to help visualize, we are going to be using some videos of our own tent (Slumberjack Daybreak 4), plus pictures of the North Face Wawona 4, which is our Editor's Choice best 4 person tent (and the larger capacities also made best 6 and 8 person tents). Both are a traditional double wall tent that has an outer and inner layer (like most tents do), which we will cover below. It's dome shaped, but the terms can mostly be applied to other shapes like cabin, tunnel, and even bell shapes. Now let's talk about all the different parts of a tent in this full tent anatomy guide.
What are the Different Parts of A Tent?
To summarize, the different parts of a tent are the rain fly, vents, guylines and attachment points, tent pegs / stakes, vestibule, tent poles, pole sleeves and clips, walls, door, floor, footprint, gear loft, ceiling hooks, carry bag, e port access, and room divider.
Outer Tent
When we say the North Face Wawona is a double walled tent, that means it has an outer tent and an inner tent. First, let's talk about the outer tent. It consists of the rain fly, vents, guylines, and the tent stakes. While the poles are part of this structure, we'll talk about those in their own section below.
Rain Fly (1)
The rain fly of a tent is the outermost layer that you see when a tent is completely setup. It's a waterproof fabric that's built to perfectly fit your specific tent and its shape. It covers the tent's exterior, protecting the mesh door and windows to create a protective barrier against wet and windy conditions.
Sometimes a rain fly is a full coverage waterproof fabric, while other times it only covers part of the tent. The more coverage it offers, the more weather resistant the tent is as a whole. Less coverage is usually seen in more affordable tents that are trying to cut costs, and they are intended for fair weather camping in ideal weather conditions. Full coverage is seen in higher quality tents, especially in ones that are intended for all weather conditions in spring, summer, and fall.
The rain fly attaches to the inner tent with at several different points: there are clips where it attaches to the four tent corners, and it also uses several small Velcro loops that connect the inner part of the rainfly to the tent poles.
Vents (2)
Not all tents have air vents, but many tents do and you should make sure your tent has one (or some) if you plan on camping in warmer weather. Vents built into the rain fly allow for warmer air and condensation to escape through an upper part of the tent, and they're an essential part of airflow. They should have a mesh layer to keep bugs out and be angled downwards to prevent rain from entering, and they should also have a harder, stick-like piece of fabric to prop it open.
Sometimes a tent will have air vents on the lower part of the walls. These are intended to pull in cooler air from the ground that will then push the warmer air out through the top vents in a "hi-low" circulation method. While these lower vents do help, they aren't one of the necessary parts of a tent.
The numbered picture above shows the air vent closed, but the photo below shows it propped open.
Guy Lines (3)
Guy lines (a.k.a. guy ropes or guylines) are extra pieces of rope that are used to get the tent even more secure than when you just use the tent stakes. Sometimes the guy lines are pre-attached (like in the Wawona) or other times they may just be loose rope that's included in your tent purchase. Either way, guy lines are great for helping your tent withstand windy conditions and can be attached to nearby trees and rocks (see – ways to secure your tent).
Tent Pegs & Stakes (4)
Tent stakes (or pegs) are included with your tent purchase and they are small pieces of metal that are used to stake down the corners of the tent. This provides stability to the tent structure and keep it grounded during wind gusts. To put them into the ground, you can use a tent stake hammer, the back of a hatchet, or a rock.
While your tent does come with stakes, you can replace them with something more durable like screw pegs or one of these best tents stakes. We would avoid plastic pegs or anything that's flimsy or lacks durability.
Vestibule (5)
A tent vestibule is like a front porch. It extends from the doorway and creates a covered space that's perfect for extra storage space. Some vestibules are small, like on a backpacking tents, while others are large and oversized. The size depends on the specific tent design but it's ultimately used for storing equipment like backpacks, dirty shoes/boots, or even bikes in larger tents.
If your tent has multiple doors, it may have one vestibule per door. Sometimes secondary access doors won't have a vestibule or will have a much smaller one than the main door. Some tents have a vestibule that's been extended and given a floor to create a screen room (see – best tents with screen room), which is a cool tent feature for bug-free hanging out.
Inner Tent
The inner tent is sometimes called the tent body, as it has all the essential parts of a tent including the pole clips, tent walls, and tent floor. This part sits below the outer tent and creates the sleeping area for campers.
Tent Poles (1)
Tent poles provide the tent's structure and framework, and they can be either fiberglass, aluminum or steel poles depending on the specific model. There are different ways to set up a tent depending on the specific model, but generally you slide one end of the pole into a corner grommet, then bend it so the other end slides into the opposite corner's grommet. Then you can use the pole clips to attach the inner tent, which is discussed below. The poles will usually connect in the top center in a pole hub that holds them all together with a clip or hook.
As for the specific tent pole materials, each has their own pros and cons. Generally, we would recommend avoiding fiberglass since it isn't as durable or strong long term. It's most popular in tents that are designed to be more budget-friendly, but we wouldn't personally recommend that unless you're a beginner camper trying to stick your toes in the water. Aluminum is going to be the better option in most cases, with steel being preferred specifically for heavy duty canvas tents or instant tents.
Tent Pole Sleeves & Clips (2)
The poles make up the main part of the structure by supporting the inner tent through either pole sleeves or clips. A pole clip is more common in newer style tents and uses small clips to attach the tent body to the pole frame. You simply put the ends of the pole into the corner grommets then attach the clips at the multiple pole attachment points.
More traditional frame tents may use pole sleeves and the Wawona is a perfect example of that. You slide the poles through the sleeves, then connect the ends into the corner grommets. While clips are more common, sleeves are harder to setup but ultimately offer more stability.
Tent Walls (3)
The tent walls are pieces of fabric that create the barrier of the sleeping area. They usually have at least some mesh, with the amount of mesh varying between products based on the intended use. Some tents have large amounts of mesh in a permanently fixed mesh layer that's great for three season tents and is especially beneficial for ventilation when the rain fly is off. Other tents, like ones meant for winter camping, will have more traditional tent fabric on the majority of the walls.
Part of the walls include the ceiling since they are usually one piece of fabric. More mesh on the ceiling allows for better ventilation and may even let you see the night sky on a clear night (see – best stargazing tents). The same thing goes for windows – most tents have windows or mesh sides that allow for air flow and they give you a view of the outside.
Door(s) (4)
Depending on the tent's design, it may have multiple doors or just one. Either way, you'll need one main opening to access the interior space. The door uses a large and long zipper to create an opening. It can stay zippered shut to keep bugs out, or you can use the door tie backs to keep it open.
Some larger, canvas tents will have storm flaps on the door, which helps greatly with weather resistance. A perfect example is the White Duck Alpha Wall Tent, which made our list for best tent to live in full time, tents for tall people, glamping tents, and tent with stove jack)
Tent Floor (5)
The floor of the tent is the bottom-most layer and it protects the interior space from the ground. Even though it's not usually exposed directly to rain or wind, it should be a higher denier (fabric quality rating) and waterhead rating (water resistance rating) than the walls. This will help protect the camper from a wet ground and increase the longevity of the fabric since it's constantly getting stepped on. Pair your tent with a matching footprint (more on that below) to make both tent fabrics last even longer.
P.S.- if you ever see the term "tub floor" or a tub-like floor, this simply refers to the shape of the floor. Not only does it cover the entire bottom of the tent, but it rises up the sides at least 6-12 inches like a bathtub would have walls. This helps provide more protection in wet conditions and keeps rain from splashing up into the mesh walls.
Additional Tent Accessories
Tent Footprint
The tent footprint, or ground sheet, is an additional piece of fabric that sits on the ground below your entire tent. Some tents do come with one included, but most tents don't. If it's not included in your purchase, you can buy the matching one from the same seller typically. We recommend buying and using a footprint, but not everyone does. You can read more here – Do you need a tent footprint?
Gear Loft & Storage Pockets
A gear loft and storage pockets are a fun addition that makes storing small pieces of gear super simple. A gear loft is simply a storage pocket that hangs from the ceiling, while storage pockets are sewn into the side of the tent. As you can see in the picture below, the Wawona has multiple pockets that are stacked on top of each other. This is by far some of the most interior storage we've seen in a tent, but most tents do have some kind of pocket system inside.
Ceiling Hooks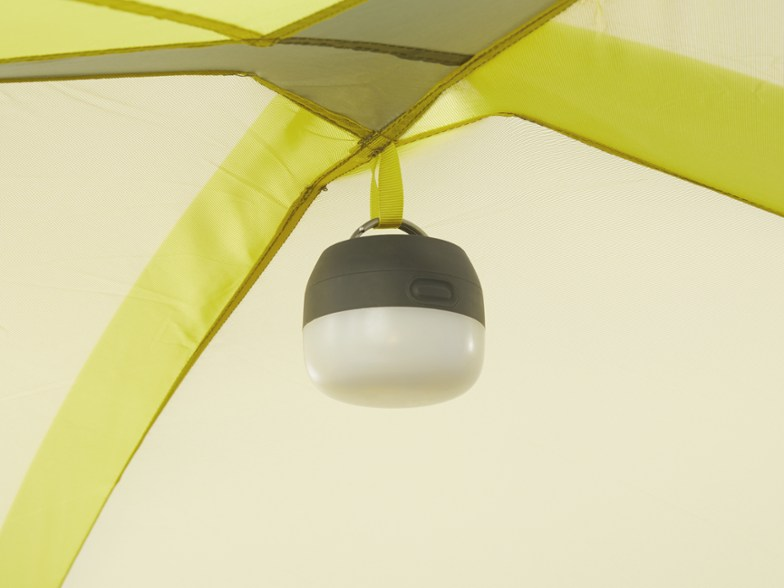 Ceiling hooks are another great accessory that should be included in most basic tents, and it's simply a fabric loop that hangs from the ceiling. This makes it super easy to hang a lantern from the ceiling so you can see inside your tent at night.
Carry Bag
All tents include their own carry bag so you can easily transport the tent to and from your campsite.
E-Port Access
An E-port is an access point in the side of the tent wall where a slit in the fabric allows you to thread an extension cord. This is more commonly see in larger family style tents and gives you access to electricity from within the comforts of your tent.
Room Divider
Some larger tents will have a removable room divider that splits the interior space into two or three different rooms. This is great for families or when two couples camp together, and provides some privacy for the different groups.
Single Wall Tent
If your tent is a single wall design, like a canvas tent or an ultralight backpacking tent, the outer tent and inner tent will be one piece of fabric instead of two. This means the fabric must be waterproof, but also breathable to prevent condensation. That's a tall order, so it can be difficult to balance between the two with modern tents.
There are three situations where a single wall tent makes sense: 1) an ultralight backpacking tent that's trying to cut weight, 2) a four season tent that's built for extreme cold and snow, and 3) a heavy duty canvas tent that's meant for year-round use. If you don't fall into these three categories, you're sacrificing basic comforts unnecessarily, so make sure you're taking that into consideration when shopping for a tent.
Other than the wall design, single walled tents mostly have the same parts of a tent that you see in double walled tents but they may be in a different layout.
FAQ
What is the front of a tent called?
The vestibule is part of the front of the outer tent body and it covers the door. It provides a dry space for gear storage like backpacks, dirty boots, and some are even large enough for a bike.
What is the top piece of a tent called?
The rain fly is the top piece of a tent and it's basically a waterproof cover that provides a protective barrier between the outside world and the camper inside.
What is the structure of a tent?
A tent structure consists of an outer tent and inner tent, both of which are comprised of multiple parts that create the tent as a whole. There's a rain fly, poles, an inner tent body, stakes, and so much more.
What is a tent?
Tents are portable shelters made of fabric, supported by poles and ropes. They provide temporary protection from nature's elements. Lightweight and easy to set up, tents are essential gear for adventurers and outdoor fans everywhere.
Various sizes, shapes, and materials exist to meet different needs and various climates.
What is a tent door called?
The entrance or exit point of a tent, commonly used for getting in and out, is straightforwardly referred to as the "tent door." You may be thinking of the area around a tent door, which is called a vestibule. This space is great for gear storage and wet shoes. However, there can be variations in tent doors, each with its own terminology. For instance, a "mesh door" refers to a door made primarily of mesh fabric, offering ventilation while keeping insects out.