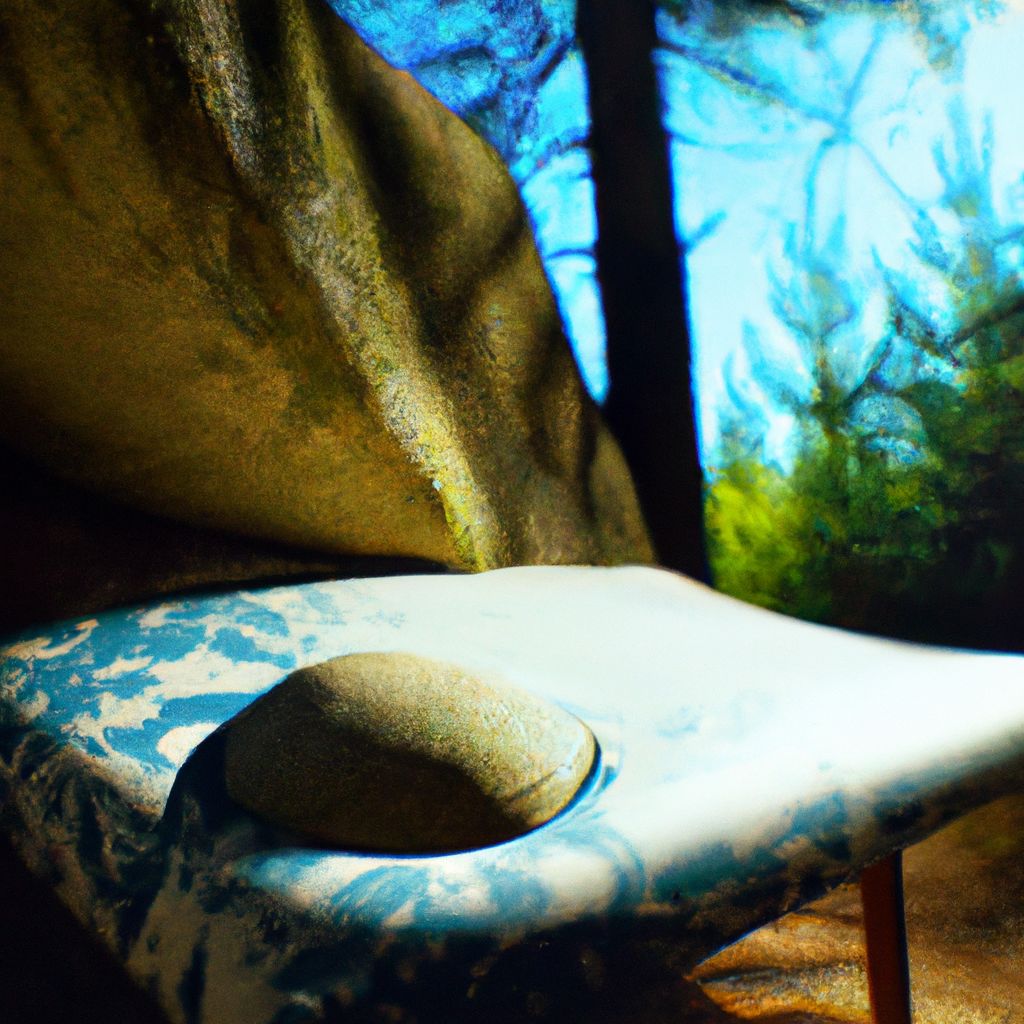 Crafting your own DIY bouldering crash pad can be a fun and economical way to guarantee a safe landing while climbing. With a couple of materials and some sewing skills, you can create your own crash pad that fits your needs.
Gather the materials: foam, fabric, a zipper, thread and a sewing machine. The foam should be thick enough to give proper cushioning. Choose a fabric that is durable and can endure frequent use.
Measure and cut the foam into two pieces – one for the top and one for the bottom. Make sure they fit together when sewn. Then, cut fabric that covers both pieces when put together.
Time to sew! Stitch around three sides of the fabric. On the fourth side, attach a zipper so you can remove the cover when necessary. Leave an opening for flipping the cover inside out. Sew all four sides together to close up any openings and reinforce at the corners.
Put the foam pieces in their respective covers via the flipping opening. Zip up the crash pad and test it by jumping or falling on it from different heights.
Make your own crash pad to save money and control size and design. You can even make a sensory-friendly one by adding materials for sensory input. It can be a fun and educational activity for your kids, too.
So if you're looking for a budget-friendly solution for bouldering, consider making your own crash pad. Put in some creativity and effort for a reliable cushioning item that will be ready whenever you decide to hit the rocks. Get sewing and have peace of mind during your next climbing session!
Understanding the importance of a bouldering crash pad
Bouldering crash pads are essential for climbers. Here are five reasons why:
Safety: Padding cushions falls, reducing injuries.
Confidence: Knowing a reliable pad is there helps climbers push their limits.
Portability: Foldable and straps make them easy to carry.
Land preservation: Prevents excessive erosion.
Community: Multiple pads side-by-side create an inclusive atmosphere.
Commercial crash pads can be pricey, so many climbers opt for DIY ones. Benefits include:
Personalization: Tailor the pad to your preferences and needs.
Creativity: Exercise your creativity and skills, like sewing.
Sensory input: Pick foam types that cater to you.
To make a crash pad, you need foam, fabric, a sewing machine/thread, a zipper/Velcro, and tools. Tutorials will guide you through measuring and stitching properly. You'll save money and gain a sense of accomplishment.
Safety is key: Ensure the foam is thick enough and consider adding straps.
Bouldering crash pads are essential for safe and enjoyable climbing. Whether you buy one or make your own, they will bring you peace of mind and fun.
Gathering the necessary materials and tools
Gather up the goods and tools to make your own DIY bouldering crash pad. Follow this step-by-step guide to get everything you need:
Foam: Find the right high-density foam. Thick enough to cushion falls.
Fabric: Cordura or nylon are best. Durable and tear-resistant.
Zipper: Long enough to insert and remove foam easily.
Thread and Needle: Heavy-duty thread is essential.
Sewing Machine (Optional): Makes the process easier and faster. But not necessary.
Safety comes first. Choose high-quality foam for protection.
Pro Tip: Measure the bouldering area to get the right size crash pad. Maximize protection during climbing sessions.
Step 1: Measuring and cutting the foam
Measuring and cutting foam is a must-do for DIYing your own bouldering crash pad. To get the exact size pieces you need for cushioning, here's what to do:
Establish measurements. Check the length and width you want, depending on your preference and space for storage.
Mark the foam. Use permanent marker or chalk to make the right marks. Measure accurately!
Cut with care. Use either a sharp utility knife or an electric knife. Cut slowly and make straight edges.
It's v. important to get the right foam size for safety and protection while bouldering. For help, check out online tutorials and videos. They'll show you how to measure and cut as well as give extra advice for DIY crash pad projects.
Step 2: Sewing the fabric cover
To ensure a secure and durable fabric cover for your DIY bouldering crash pad, it's essential to focus on Step 2: Sewing the fabric cover. This section will guide you through the sub-sections of choosing the right fabric and sewing machine, creating the top and bottom panels, and sewing the side panels. These steps will help you achieve a sturdy and reliable cover for your crash pad.
Choosing the right fabric and sewing machine
When crafting projects, it's essential to consider the purpose, color, pattern, weight, and drape of the fabric. For garments, natural fibers like cotton or silk are best. Upholstery calls for durable materials like canvas or denim.
To save time and enhance the sewing experience, opt for a machine with features like stitch options, speed control, and auto functions. Beginners should look for user-friendly machines with basic functions, while advanced sewers may prefer something with more complex capabilities.
Don't forget to check reviews and compare prices before deciding on fabric and a sewing machine!
It's worth remembering that the invention of the sewing machine drastically changed the fashion industry. In 1846, Elias Howe patented his revolutionary lockstitch technology, which sped up garment production. This invention has forever shaped the fashion world as we know it today.
Creating the top and bottom panels
Measure and cut. Use a measuring tape to get precise measurements for the panels. Cut fabric using those measurements.
Pinning. Align the edges and secure with pins.
Seam it up. Use a sewing machine or needle and thread. Sew along the pinned edges with a straight stitch. Reinforce any areas that receive extra stress.
Finishing touches. Trim excess fabric or threads. Press for a smooth, professional look.
Pro Tip: Add an extra inch or two to each measurement for seam allowances and adjustments during sewing. This will make for a better fit.
Sewing the side panels
Sew side panels by following these steps:
Line up edges of side panel fabric with main fabric. Pin together.
Sew along pinned edges with machine or needle and thread. Keep straight line and secure stitch.
Trim extra fabric. Press seam for clean finish.
Plus, use contrasting thread or special stitches to add creativity.
Sewing has a long history. Evidence found in archaeological digs shows garments were hand-sewn thousands of years ago. (Source: National Geographic).
Step 3: Assembling the crash pad
To assemble your DIY bouldering crash pad, we'll now focus on Step 3: Assembling the crash pad. In this step, we'll cover two important sub-sections: attaching the straps for easy carrying and adding a zipper for easy maintenance. These additions will ensure you have a portable and convenient crash pad that is both user-friendly and functional. Let's dive into the details of these sub-sections and complete the final stages of your DIY crash pad.
Attaching the straps for easy carrying
For a breezy transport of your crash pad, use these steps:
Turn the pad upside down with bottom up.
Find the pre-drilled holes on either side.
Thread one end of a strap through the matching holes on one side.
Pull the strap tight to secure.
Repeat steps 3 and 4 for the other side.
Adjust each strap to desired length for comfortable carrying.
Ensure that both straps are fastened securely. Otherwise, mishaps may happen while transporting.
Pro Tip: Don't make the straps too long. Too much length can cause imbalance and discomfort. Now, make your crash pad maintenance easier with a zipper!
Adding a zipper for easy maintenance
To maintain your crash pad easily, add a zipper! It'll let you conveniently remove and clean it. Here's a 3-step guide:
Measure and mark the fabric with markers or chalk, where the zipper will be sewn.
Create an opening with small scissors or a seam ripper, wide enough for the zipper. Fold and iron each side of the opening.
Lay the zipper on top, teeth aligned with the hemmed opening. Sew along both sides of the tape to fasten it.
For extra tips, use a metal closure for durability. Select a contrasting color to make the design look great. Finally, remember to regularly care for your crash pad – it'll last longer and perform better!
Step 4: Testing and ensuring safety
Testing and ensuring safety is essential when making a DIY bouldering crash pad. You must make sure the pad will protect you during falls and absorb the impact. Here are some steps to test and ensure your homemade crash pad is safe:
Jump Test: Jump on the crash pad from different heights to check if the foam and fabric are thick enough to cushion you.
Proprioceptive Feedback: Pay attention to how your body feels during the jump test. Is the crash pad too soft or too firm? Adjust the foam layers if needed.
Compressibility Test: Press on the pad with your hands or knees to see if any weak spots exist that'll compress too much on impact.
Stitch Strength: Check the seams and stitching. Make sure they won't unravel or tear.
Strap Durability: Pull on the straps forcefully to test their strength. Ensure they're securely attached.
Impact Tracking: Examine the surface for signs of wear and tear, like torn fabric, exposed foam, or shifted foam pieces.
Also, it's recommended to get someone else to try out the crash pad to get different perspectives.
Pro Tip: If your crash pad doesn't meet safety standards, reinforce it with extra layers of foam or upgrade materials. By testing and ensuring the safety of your DIY bouldering crash pad, you can trust it will cushion your falls and provide a safe environment for your climbing activities.
Conclusion
Wrap-up time! We've covered DIY Bouldering Crash Pad making— a cost-effective, achievable solution. Foam and fabric are the materials needed for crafting a reliable crash pad, suitable for experienced climbers or kids. Plus, it offers safety and an improved climbing experience.
When making a crash pad, consider:
Materials. Foam pieces need to be thick enough to cushion falls, and the fabric should be strong and resilient. Sewing the foam pieces together with strong thread and reinforcing seams stops them shifting.
Also, a sensory crash pad enhances the experience. Different textures, colors, and even items such as bean bags or straps can stimulate both physical and mental activity.
As an example, a friend of mine was short on cash but still wanted a crash pad. He had minimal sewing knowledge, but plenty of enthusiasm. He crafted a fully functional crash pad that cost far less than buying one from the store. Not only did he save money, he gained satisfaction from the creative project and customizing his crash pad.
Frequently Asked Questions
1. How do I make my own DIY bouldering crash pad?
To make your own DIY bouldering crash pad, you will need foam, fabric, a sewing machine, and basic sewing skills. First, cut the foam into two pieces to create the top and bottom of the crash pad. Then, cut a piece of fabric that is large enough to wrap around the foam pieces and have extra to create a cover. Sew the fabric pieces together, leaving a small opening to insert the foam. Once the foam is inserted, sew the opening closed, and your DIY crash pad is ready to go!
2. What materials are needed to make a DIY crash pad?
You will need foam of your desired thickness, fabric for the cover, a sewing machine, thread, a needle, and a zipper if you want the cover to be removable.
3. Is it necessary to have sewing experience to make a crash pad?
Basic sewing skills are helpful, but you don't need extensive experience. As long as you can sew a straight stitch, you should be able to make a DIY crash pad. There are also tutorials available online that can guide you through the process.
4. How thick should the foam be for a DIY bouldering crash pad?
The thickness of the foam depends on personal preference and the level of cushioning you desire. A foam thickness of 3 to 4 inches is commonly recommended for a DIY bouldering crash pad.
5. Can I make a sensory crash pad for my child?
Absolutely! A DIY crash pad can be customized to provide sensory input for children. You can use different textured fabrics, add straps or handles for a sensory experience, or even insert materials like bean bags for additional sensory stimulation.
6. Is making your own crash pad a cost-effective solution compared to buying one?
Yes, making your own crash pad can be a cost-effective solution compared to buying one. The materials needed to make a DIY crash pad are relatively inexpensive, and you can tailor it to fit your specific needs. Additionally, making your own crash pad allows for a sense of accomplishment and customization that store-bought ones may not offer.