There are many different types of tents, each with their own advantages and disadvantages. But with all the different tents out there, how do you know which is best for you and your typical camping situation? We are going to talk about the different tent shapes and designs, as well as their best use so you can pick the best one for you. We'll start with the first few being the most popular ones, then grow into less common options from there.
What are the Different Types of Tents?
There are many different shapes and sizes of tents, but here are the most popular tent types, generally arranged from more common to least common. There are dome, cabin, instant, bivy, tunnel, bell, wall, hammock, teepee, pop up, truck, rooftop, beach, a-frame, inflatable, geodesic, and more!
Dome Tent
Dome tents are the most popular type of tent and are the first type we think of when talking about tents. They're a dome shape, with four corners and a rounded top formed by two flexible poles (or more) that can be either fiberglass or aluminum poles. They are lightweight, easy to setup, and come in a wide variety of brands, colors, capacity/sizes, fabrics, and more.
Because they're the most popular type of tent, a dome tent is seen in tons of different camping situations such as four season tents, backpacking tents, car camping tents, etc. This shape is usually one of the more weather resistant tent types, especially when it has a full coverage rainfly. Dome tents with a large rain fly will offer storage space in the form of a vestibule, which is like a tent's front porch. While they aren't always smaller, dome tents tend to be a capacity of six people or less, with larger tents moving more towards a cabin shape.
Cabin Tents
A cabin tent is the second most popular shape when it comes to car camping and is great for larger groups and families. They have near vertical walls and a flatter ceiling, giving them more headspace than dome tents. On the other hand, those straight walls are less weather resistant, making them less ideal for windy and rainy weather.
Cabin tents are generally a larger and more spacious tent, so you'll have room for standing upright and sleeping more people on your next camping trip. They usually have at least one (or more) room dividers, so you can create multi room tents that have separating walls between family members or groups of campers. Read more here for a further breakdown of dome tent vs cabin tent.
Instant Tents
Instant tents aren't really a shape of tent, but are more of a feature. They're usually cabin tents that are designed to be set up in as little as 90 seconds, hence the name "instant." They will have steel poles that are pre-attached, so you simply pull it out of the carry bag, set it upright, then unfold the poles before extending them.
Pop Up Tents
Pop up tents are a type of instant tent and are designed to set up in only a few seconds. They remind us of the sun shade for your car's front window and pop open quickly and effortlessly. All their poles will be built into the tent's frame so there no setup time except upfolding and staking down the corners. Most users report that the hardest part of a pop up tent is getting it to fold back into its packed down shape, but it gets easier with time. On the current market, most of these tents are made of cheap materials and flimsy poles, so they're best for backyard campers who want a fun kids tent or similar situations.
Bivy Tents (Bivy Sacks)
A bivy tent, or bivy sack (short for bivouac) is a type of lightweight tent that's built for ultralight backpacking, climbers, and some winter camping situations. At its most basic description, it's a low rise tent that creates a weatherproof cover for your sleeping bag with a breathing hole or mesh layer near your face. It's really only intended for certain situations, so most campers wouldn't need to get something like a bivy tent.
Tunnel Tents
A tunnel tent resembles a tunnel and is longer in length with a curved top. Their length provides lots of space for sleeping quarters, and they usually have a generous height for standing room as well. Because you can point the small end into the wind, they do usually perform well in adverse weather but are not as common. As a plus, they can usually be made into a multi room tent with removable room dividers. Some tunnel tents are quite expensive (like the Zempire EVO in our best 10 person tents), while others are on the more affordable side like the REI Wonderland, which made our list for best stargazing tents.
Hoop Tents
A hoop tent is a type of tunnel tent that's characterized by its distinctive curved, hoop-like structure. These tents typically feature two or three poles which create arches, forming the "hoops" that give the tent its name and shape. The tent fabric is then draped over these poles and secured, creating a tunnel-like interior space. When do you use hoop tents? Depending on the specific tent model, they can be used for a wide variety of situations like backpacking, car camping, windy conditions, cycle camping, long duration camping, and more.
Tunnel Tent vs. Dome Tent
A tunnel tent has a long, tunnel-like shape with curved poles that create a strong structure. On the other hand, a dome tent has a rounded shape with poles crossing each other, forming a dome-like structure. Generally, dome tents are easier to set up as they usually have fewer poles and a simpler design. Tunnel tents, due to their elongated structure, may take slightly more time and effort to assemble properly. Both are fairly weather resistant, although a dome tent will resist wind gusts better than a tunnel tent.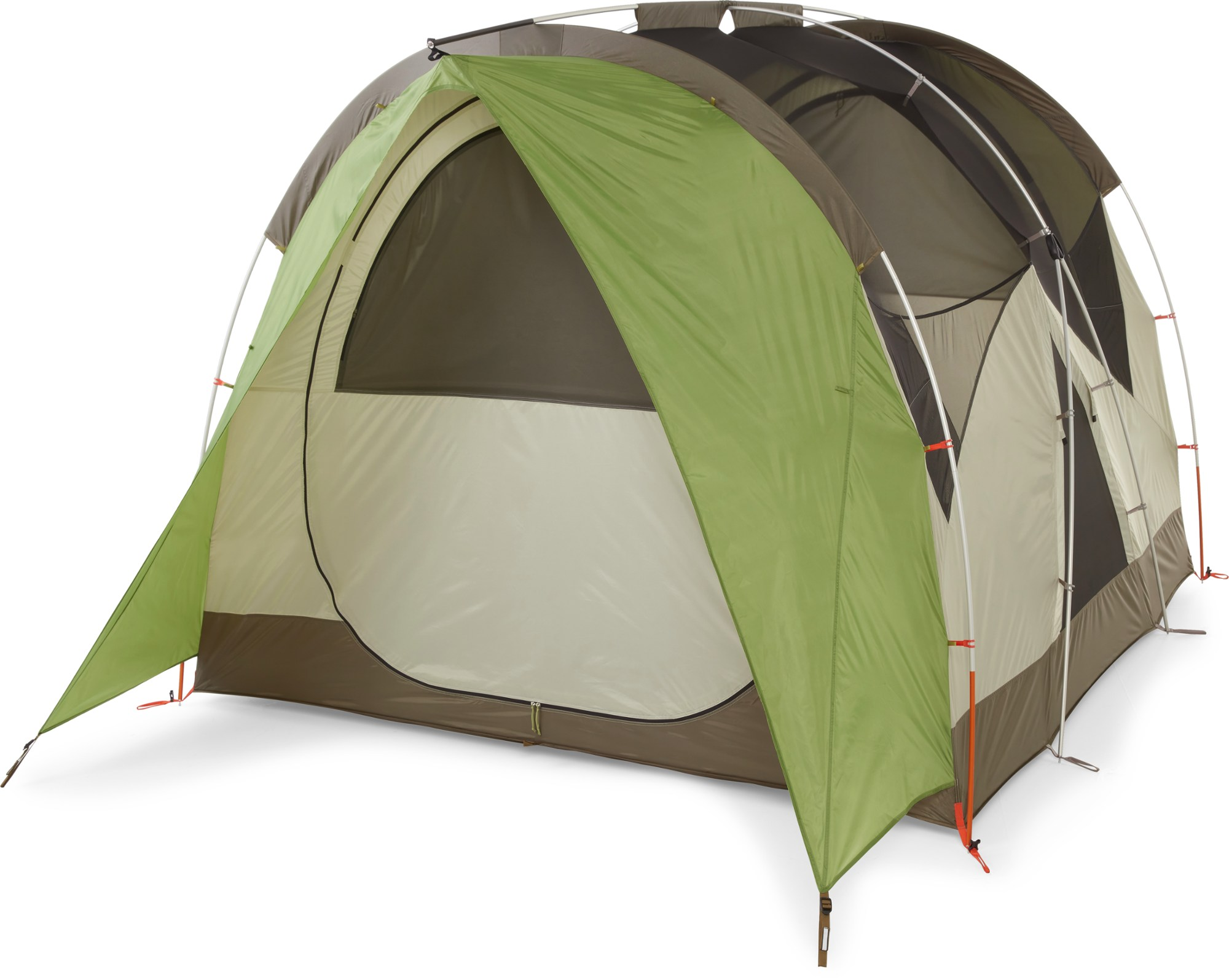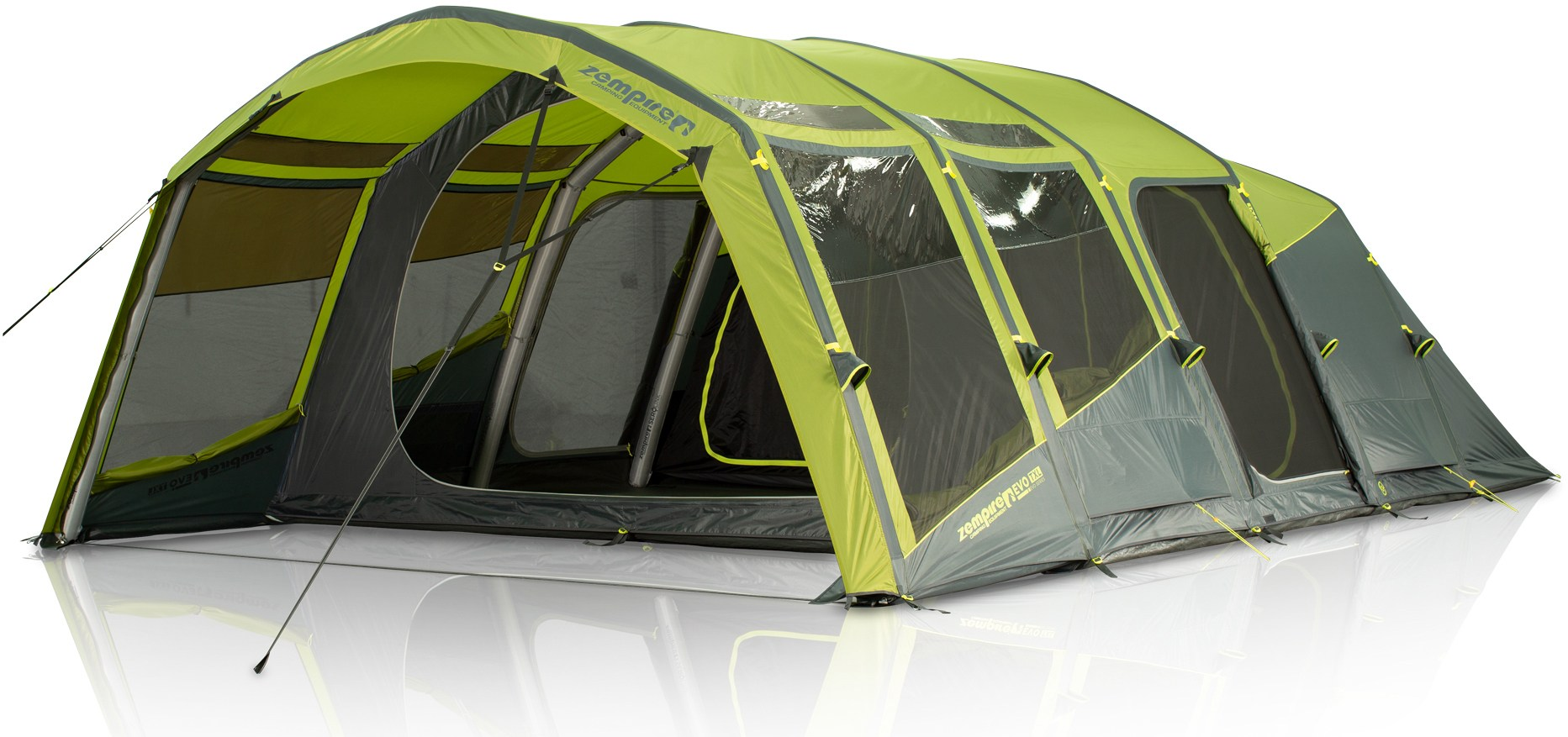 Tunnel Tents vs. Solo Tents
Tunnel tents are usually designed to accommodate multiple people and provide more space, while solo tents are designed for individual use and offer a compact and lightweight solution. A tunnel tent (like above) usually has lots of interior space and a designated sleeping area. A solo tent like a Bivy sack (see above) has no interior space and is basically a tent that just fits a single person and their sleeping bag.
Inflatable Tents
The Zempire tunnel tent above is also an inflatable tent, which means is doesn't use poles and instead uses air beams to support the structure of the tent. This is newer technology that has to be done right to be effective, but Zempire does an amazing job. Despite the tent's size, it sets up in only a few minutes using a dual action air pump and is highly weather resistant. If you're interested in inflatable tents, we recommend splurging a little on something higher quality so you're less likely to have issues with holes in the long term.
Bell Tents
A bell tent is similar to a teepee shape and it has a single support center pole in the middle. The walls slope downward in a circular shape, but then cut straight down once they're a few feet from the ground. Most bell tents are made of canvas and provide superior weather protection in all four seasons. They are also great for hot tenting and are compatible with a wood burning stove for keeping warm in winter. Because they use fewer poles (typically only 1-2) they are quite easy to setup despite their size – the hardest part is getting all the stakes into the ground.
Wall Tents
Walls tents are another type of tent that's typically a canvas tent – they're great for year round camping setups that are going to stay put for longer periods of time. They are more difficult to setup, but in exchange they offer tons of interior space, headroom, and superior weather protection. The White Duck Alpha is one of our favorite wall tents and can be used with a stove jack for winter setups or it has a mesh tent door and windows for warmer temperatures. Similar to cabin tents, these designs can be multi room tents with removable room dividers.
Hammock Tents
A hammock tent is exactly what it sounds like. Instead of being setup on the ground, a hammock tent relies on straps that are connected to two trees that allow the sleeping structure to hang between the two. The hammock itself will have a mesh screen to protect the sleeping camper from bugs, plus an overhead tarp protects them from rain. Some thru hikers love having a suspended tent because they're lighter and don't rely on finding flat ground, but not all routes are good for hammock tents. If there aren't many trees, or if they aren't the appropriate distance apart, then it's not great to be using a hammock.
Teepee Tents
Teepee tents are shaped like traditional Native American teepees and use a single central pole to hold the fabric upright. It's almost like a cone, and is round in shape. The tallest point is only in the exact center where the pole is located, so a teepee tent won't have much interior space – unless it's really large, you won't have enough room to stand upright. Most modern tents that are teepee shaped are quite small, have a stove jack, and are built for winter camping. Traditional teepee tents are quite large and are made with heavy duty canvas materials. Pyramid tents are just like a teepee, but have four corners instead of being circular.
Non-Freestanding Tents
With many of the tents above, you'll see them classified in their product specifications as freestanding or non-freestanding. Most tents are freestanding, meaning they can be setup without being staked into the ground, although it's always a good idea to stake your tent no matter what. Non-freestanding tents must be staked in order to stand upright. This is typically seen in ultralight tents that are trying to cut weight as much as possible (like the Hyperlite backpacking tent below), and they are using a single wall construction. In order to cut even more weight, a lot of users will use trekking poles instead of tent poles.
Single Walled vs. Double Walled
Most tents are double walled construction, meaning they have two layers for the wall material. An example would be most dome tent and cabin shapes, which have an inner tent with mesh and an outer tent layer with a weatherproof rain fly.
A single walled tent will only have a single wall construction, like non-freestanding tents and canvas tents. Canvas is naturally breathable, but other materials will struggle with condensation. Single walled tents are intended as a backpacking tent for ultralight thru hikers who are willing to cut comfort and size in exchange for weight.
Rooftop Tents
Rooftop tents have grown greatly in popularity the last few years, so I'm sure you've seen one recently. They are tents that attach to the roof rack on the top of a vehicle, usually a SUV but they can be on cars as well. They look like a large, mostly flat box, but fold open to expose a tent that sets up on top of the vehicle.
Because you don't have to carry the tent or spend a lot of time staking, the tent materials are high quality, thick, and heavy compared to regular family camping tents. They are extremely weather resistant are a great option for car camping. A rooftop tent can be quite expensive, which is why it's best for serious campers and overlanders (long distance drivers) who want the ease of having their tent nearby at all times.
Truck Tents
Truck bed tents attach to the back of a vehicle and setup using the truck's frame for support. The interior of the tent is the truck bed, so you would be sleeping in the back of your truck. This could be good for people who don't like camping on uneven ground, but can be inconvenient if you like to store stuff in your truck bed.
SUV Tents
A similar type of tent would be an SUV tent, which uses a hatchback or trunk instead of a truck bed. They still setup on the ground, but hook onto the open hatchback for support. These can be great for people who camp out of their car long term but won't be as durable or weather resistant as a more traditional tent shape and design.
Beach Tent
Beach tents are perfect for beach camping or chilling near the sea. For the most part, these tents will be sun shades more than an actual enclosed tent, but there are enclosed beach tents as well. Some provide overhead cover to protect from UV rays, while others can be two or three sides to help with wind protection as well. There's lots of different ones on the market right now, but they aren't classified as a camping tent and should only be used for chilling on the beach during the day.
If you're interested in camping on a beach, consider purchasing a camping tent that only has mesh on the upper tent walls (so less sand can get in) and pair it with some tent stakes for sand to keep it securely in the loose terrain.
A-Frame Tents (aka Ridge Tents)
While the A-frame is a fairly traditional shape, it's not commonly seen in modern tents. An A-frame tent (or ridge tent) is just like an A-frame cabin and has slanted walls that are supported by a central beam. It's shaped like an "A" and doesn't provide much head space. This is a camping tent that purely comes down to personal preference, as most users either really like the shape or really don't.
Geodesic Tents
A geodesic tent is similar to dome tents but has more poles that provide additional support. You'll see geodesic tents in places where wind and extreme weather are common, like mountaineering expeditions. The best ones are very lightweight, extremely durable, and are able to handle tough conditions. They're typically more expensive, and the larger ones can be upwards of $5000, like the Mountain Hardwear Stronghold below. Unless price isn't a factor at all, most people won't need a tent this sturdy and it's really built for mountaineering only.
There is such a thing as semi geodesic tents, which are very similar but have one distinct difference. Where a regular geodesic shape has five or more crossover points between the poles, a semi geodesic tent has closer to three to five. The means it's a less dome-like design and is slightly less weather resistant, but still performs extremely well.
Canopy Tents
A canopy tent isn't something you commonly see, and it's less a 'type of tent' and more just a feature of a tent. There are lots of canopies out there, especially in the sports world when they're used for keeping players and parents on the sidelines out of the sun. Combine a canopy with a tent, and you have a canopy tent.
Canopy tents aren't very common, but there is a stand-out option that comes to mind. The Stella Stargazer is one of the best tents for glamping and is a heavy duty canvas tent that's ready for all kinds of weather conditions. It can function as an average tent, or the lower walls can be unzipped from the floor and rolled up, making it a canopy.
Marquee
Though not used for camping, another type of tent is a marquee, which is a large canvas structure that's used for social or commercial functions. If you've seen the Great British Baking Show, you know what a marquee looks like!
FAQs
What is a tent without sides called?
A tent without sides is called a canopy tent, or just a canopy. Canopies are meant for shading the user against the sun and light rain and is typically easy to use and setup.
What are the 4 main types of tents?
The four main styles of tents are cabin, dome, tunnel, and instant tents.
What are those large tents called?
An oversized tent used for a social function or temporary building is called a marquee. It can be used for weddings, performances, the circus, and so much more.