When you're planning your next camping trip, one of the most important parts of any packing checklist is what you're going to wear. You want to be comfortable, safe, and have the appropriate amount of layers for the weather. Dirt, mud, and grass stains are all part of the fun, so make sure you don't bring any camping clothes you aren't willing to get dirty.
The next thing worth mentioning is that cotton in general is a huge no-no in all outdoor activities. Choose synthetics or Merino wool over cotton wherever you can. Cotton holds on to odors, has no moisture wicking properties, doesn't keep you warm when it's wet, and lots of other things that just don't bode well for your camping experience.
Ashley and I always have a few key pieces of camping clothing that come on every camping trip no matter where we go or what season it is. We also have some pieces that we only bring on cold weather camping trips, but for the most part we bring the same camping outfits over and over again. Let's dive into our favorite camping attire.
We Always Bring:
Rain Jacket
This is a piece of camping gear that is absolutely essential no matter where you are or what season it is. Outside of the typical use of rain protection, I use mine as a wind breaker during mild weather when you have a stiff breeze. It is amazing how much warmer you can feel just simply by cutting down the wind!
Patagonia Torrentshell 3L
My preferred rain jacket that I wear is the Patagonia Torrentshell 3L. There can be an argument made that it is a little more expensive compared to your cheaper options. But in my experience, the cheaper stuff you find on Amazon is only slightly more waterproof than a butterfly net, and I'm not willing to sacrifice on a such a usable and integral part of my gear. When you are buying Patagonia you immediately know the quality to expect.
Shop for the
Torrentshell 3L
Warm Jacket
This might seem a little bit out of season for camping in the summer months, but it's another recommendation that is coming from personal experience. Bringing a warm jacket is the difference between being comfortable if some unexpected weather pushes through versus being miserable. We love a good synthetic puffy jacket. They pack small, but can be paired with base layers, a mid-layer, and your puffy jacket so you have enough to stay warm in most weather conditions! Talk about being prepared!
Patagonia
Micro Puff Jacket
My preferred puffy jacket that I wear is the Patagonia Micro Puff. And again, you could always buy something cheaper, but I would be willing to guarantee that it won't last as long or be as warm as this jacket. Along with being super warm, it is also very light at only 10oz. But the best part about this jacket is Patagonia's lifetime warranty. If something happens to this jacket, they will repair it for you.
Shop for the
Micro Puff Jacket
Shoes
Slip-Ons/Sandals: This is one of my favorite bedtime hacks! I have my hiking shoes that I always travel with, but another thing I always bring are my Chaco's! They are perfect for showering in, hanging around camp during the day, and most importantly having a super quick pair of shoes to slip on for a midnight potty break! Something as simple as these slides would do the trick fantastically, or if you'd like to discover the same excitement I have for my Chaco's, you can check those out here.
Hiking boots or some type of boots is my preferred camp shoe for most of the day. You could wear running shoes, but I like the protection of having waterproof hiking boots that protect my ankles from bug bites and ticks.
Flip flops are a necessary part of any shower setup, especially if you plan on using shower provided at the campground. That being said, we wouldn't recommend wearing them around camp since they don't provide any protection or grip on the uneven ground.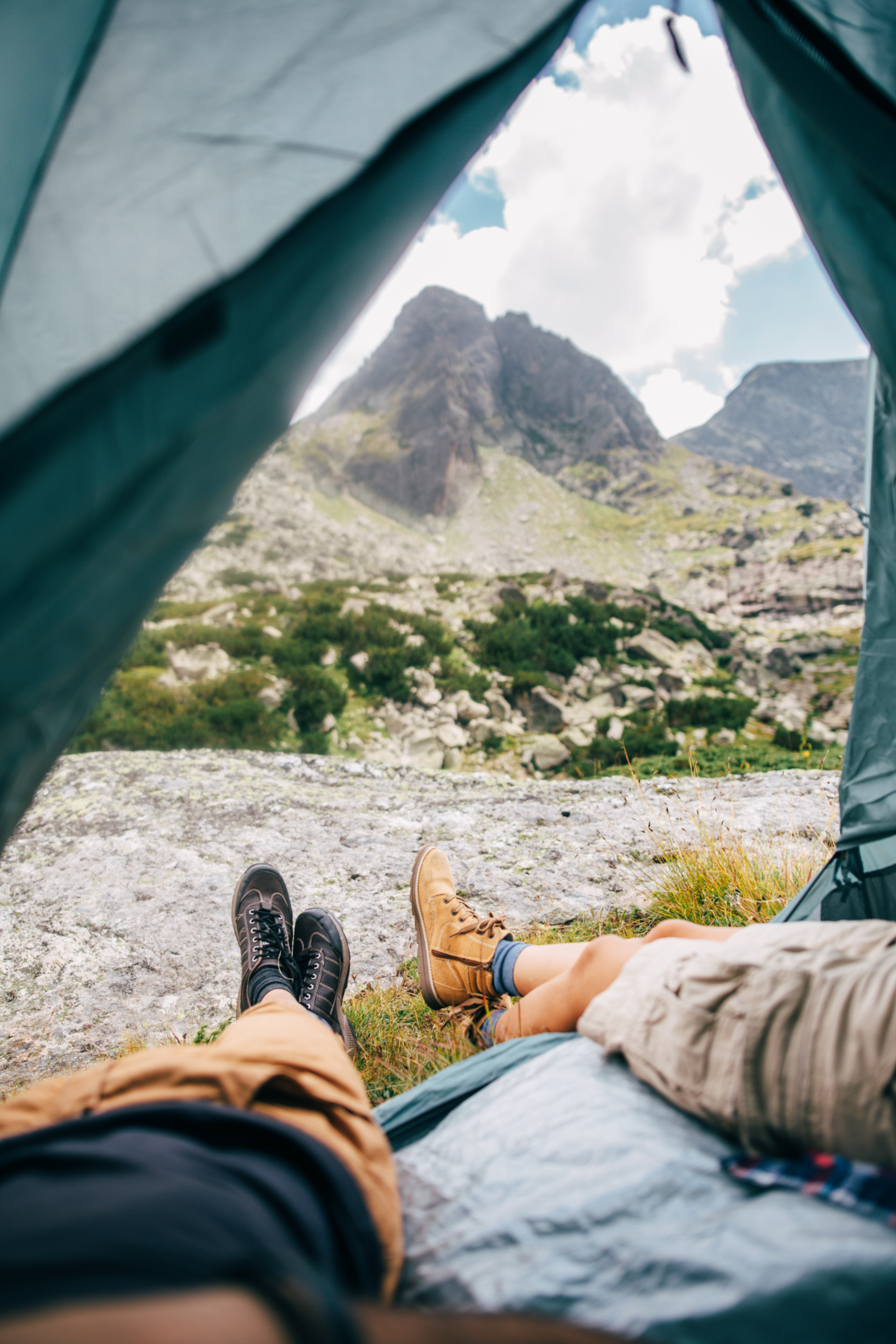 Synthetic Materials
Moisture wicking shirts are the most essential camping clothes you could pack on any camping trip. They work to keep your skin dry and can help regulate your body temperature in both hot and cold weather. You should always avoid cotton, as it holds onto sweat instead of letting it evaporate.
Moisture Wicking Shirts
Shirts made of high tech polyester fabric, or a 'work out t shirt', are preferred for hiking and camping gear. They help keep you cool and control odor, even on warm days. Look for shirts that have a UPF 50+ rating for sun protection.
Merino Wool Socks
Merino wool socks (or wool blend) keep your feet warm even when temperatures drop at night. Plus, they wick away moisture, keeping your feet dry and warm. If it's going to be hot, consider some summer hiking socks that are designed to keep your feet cool and dry.
Athletic Bottoms
Bottoms like athletic shorts, leggings, and hiking pants are key for keeping cool. Avoid jeans (which are cotton), and don't wear nice clothing since you'll probably get dirty, no matter how hard you try not to.
Keep in mind that pants will provide better bug protection, which could be a big benefit when you're hanging around the campfire in the evenings. We really like hiking pants or cargo pants since they're water resistant.
Hats
Whether you pack a wide brim hiking hat for the ultimate sun protection or just a baseball cap to cover your dirty hair, it's worth bringing along some options for you to wear when camping.
Swimsuit
Even if you don't plan on swimming, it's worth bringing along your swimsuit so you have the option just in case. Who knows, you may discover a nearby swimming hole or decide to take a plunge at the local rec center.
Extra Clothes
Always bring more camping clothes than you think you'll need, and you will have a more enjoyable camping trip. When car camping, you're going to experience dirt, sweat, rain, and sun, so you need to be prepared. You may go through clothes faster than you think, and you wouldn't want to be stuck wearing dirty or wet clothes for multiple days.
Separate Outfits
Pack separate outfits for the daytime and evening for ultimate comfort on your next camping trip. This is especially important for hot weather camping trips, where you're likely to sweat through your daytime camping clothing. You can shower in the late afternoon or evening, then put on clean clothes for the rest of the night. Plus, you wouldn't want to wear clothes to bed that you were sweaty in all day.
For Cold Weather Camping We Bring:
If you're going camping in colder climates with cold temperatures, your camping clothes will be different than what you would need on summer camping trips. You will need to focus on layers that bring extra warmth, but they can be easily taken off if you get too hot. Make sure you're de-layering when you start to sweat so you don't have issues with your sweat drying too quickly and leaving you too cold.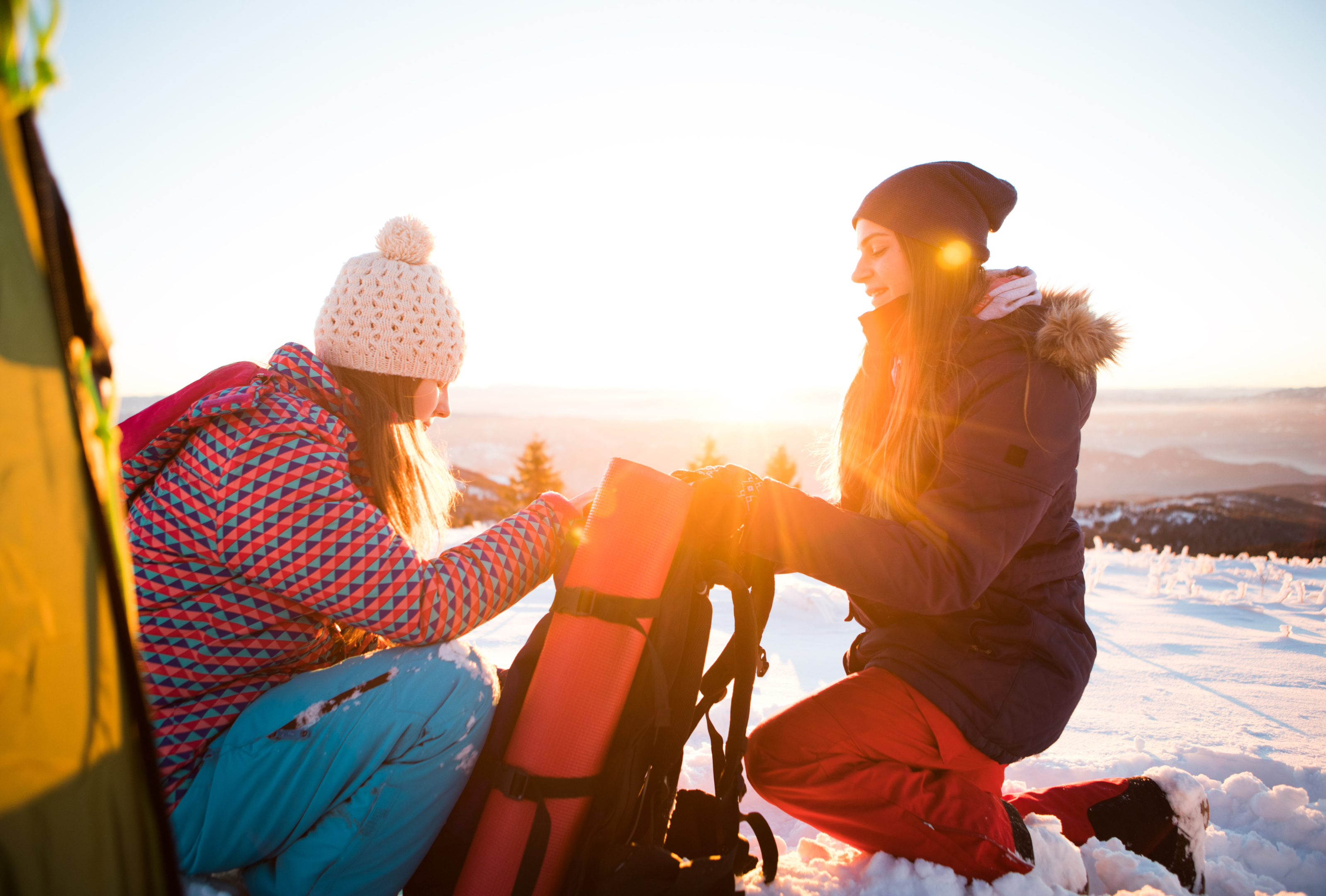 Here's a simple list of what you may need to bring for winter camping. Note that's it's quite similar to clothes for hiking in cold weather.
Layers
Layers are extremely important for cold weather camping. Make sure you have base layers, a lightweight middle layer, a warm outer layer, and maybe even an extra layer just in case.
Merino Wool Base Layer
A base layer (long underwear) is key in any outdoor activity, but especially camping in cold weather. A good base layer is great for a chilly evening or can be taken off for a warm afternoon. Additionally, they work well as a lightweight layer of insulation on super cold nights for added warmth in your sleeping bag.
Middle Layer
A good middle layer is your insulating layer, and should be some type of sweater, fleece pullover, or sweatshirt. It should be snug, but not tight. For my legs, I enjoy wearing leggings with a fleece lining, which helps keep my lower body warm.
Outer Layer
In addition to the jacket above that we take no matter what season it is, you may need a heavier winter jacket for cold weather. This would be your outer layer that works to keep you warm, especially during the cooler temperatures at night.
For your legs, it could be worth wearing snow pants, especially if you will be camping in snowy conditions. They are waterproof and will keep you warmer than any other pair of pants.
Accessories
Gloves – These are a small packable item that ties back to staying warm in unexpected conditions and weather. The ones I prefer are small knit gloves from Amazon like these. They are cheap, warm, and packable, which is exactly what we need when we only have so much room in our car or tent.
A beanie or warm hat – A lot of heat escapes from the top of your head, so even a cheaper knit beanie like this one can help a lot during a cold night in your tent. This is another thing that can make a huge difference in comfort and doesn't take up too much space.
A warm pair of hiking socks and sock liners – One of those simple things that some people forget! Even though your day spent hiking was warm and sunny, it gets cold at night, and nothing is worse that cold toes when you are sleeping.
A good pair of thick socks (preferably Merino wool or wool blend) will be your best friend during chilly weather, and are great for keeping your feet warm and dry. Nicer socks are worth the extra cost and can be worn year round in warm temperatures as well.
Conclusion
While there's lots of different camping clothes you should take on your next camping trip, ultimately it comes down to comfort for you. Pack clothes that will keep you safe, comfortable, and warm or cool depending on the weather. Pack extra layers, more than you think you need, especially since it will usually get significantly cooler at night. Once you pack the essentials, the rest is up to you!
FAQ
What should I wear for camping?
The ideal camping clothes are made of synthetic materials that wick moisture, boots or shoes with a grippy sole, and outer layers that will keep you warm once the sun sets.
How do I look cute for camping?
While it's important to wear practical camping clothes, you could make them look cuter by adding on a plaid over shirt or picking fun prints for your camping clothing.
What clothes to pack for 4 days camping?
When camping for several days at a time, it's important to pack outfits for each day and night, as well as the right shoes and outer layers for the weather you'll be expecting.
Can you wear jeans camping?
While you can technically wear jeans on a camping trip, it's not recommended. Cotton is not a good material for wearing outdoors, and camping clothes made of synthetic materials would leave you feeling much more